Many retailers may currently find themselves with time to get perspective on their business and to address objectives that have been shelved in the past.  
Matt McDonald, project and support manager at Touchretail, part of the Swan Group comments:
"We've had a number of clients get in touch just to see how we are (not purely from a business perspective) which is really nice. There's been some great feedback on our ability to continue providing support and I've been working on the positives with our retailers. There is of course uncertainty, but I've suggested it's an opportunity for a stocktake, a re-merch, to catch a breath and look at some new features or a website change."
The current situation could afford owners and managers an opportunity to take actions now that will benefit their businesses in the future. We have created a quick guide on some of these actions from our extensive experience supporting the retail industry. We cover stock, systems, marketing, customer loyalty and planning. 
Stock
Are your warehouse processes streamlined? 
With many bricks and mortar stores closing to protect the health of teams and customers, warehouse staff (who can safely practice social distancing) can use this time for stock taking. Some of our customers are using the opportunity to organize their warehouses and update stock management to streamline order fulfillment processes in the future.  
Our Warehouse Management System is a mobile-first app for independent retail businesses developed by our team at Touchretail. It optimizes all warehouse tasks and helps you organize products in your warehouse so that they can be easily put away when you receive them, and quickly found when you need them. As many retailers shift to predominantly selling online, an efficient streamlined fulfillment process can be key. 
Good system housekeeping is often put off during busy periods. Use this time to review your pricing, product images, labeling, categorization and other characteristics that may need attention. Ensuring your system is correct and up-to-date is an exercise that will save time and avoid problems in the future. 
Systems
Is your retail system 
doing everything you want it to?
If not, it might be wise to use your time for rethinking your system. Perhaps your business needs have changed or will change soon. For example, retailers will now need their systems to integrate tightly with their online stores more than ever. We specialize in this so get in touch to find out how we can help. 
If you
 already
 have the
 system you want, are you using it to its full potential?
Doing some system training can lead to mastering features that you have wanted to utilize or discovering reports you didn't know you needed. Take advantage of our numerous support articles and 'how-to' videos to ensure you get the most out of your system. 
Marketing
Do you know your 
SEO from your 
CRO?
No physical shops mean a greater dependence on your online channels. That's not only your website but all your social media, online advertising and email marketing too. 
If you already have an online shop, there are a number of questions to ask yourself about its performance. Does it meet your customers' needs? Are there quick wins you can achieve to improve this? Does it represent your company values? How easy is the customer journey? Where is your traffic coming from? Are there any trends in behavior you can utilize? Teach yourself more about Google Analytics and other free tools available to help answer these questions and maximize your online sales. 
If you don't already have an online shop, our agency are experts in creating stores on major platforms, like Shopify, to be fully integrated into our retail management systems. All designed to make your life easier and delight your customers. 
Use this time to get to grips with emerging social medias like TikTok. Find out where your customers spend their time and make sure you're there too. It's important to keep engaging with your customers through uncertainty and continuing to express your brand values. Social media and email marketing are perfect for this but be sure to convey a consistent message to your customers across every channel. 
Review your online advertising and discover which is proving to be most successful. Research which keywords you need to be optimized for. Google Ads provides a recommendations tool that suggests quick changes to your advertising strategies that can save you money and improve click-thru rates. 
Customer Loyalty
What can you do to inspire repeat custom?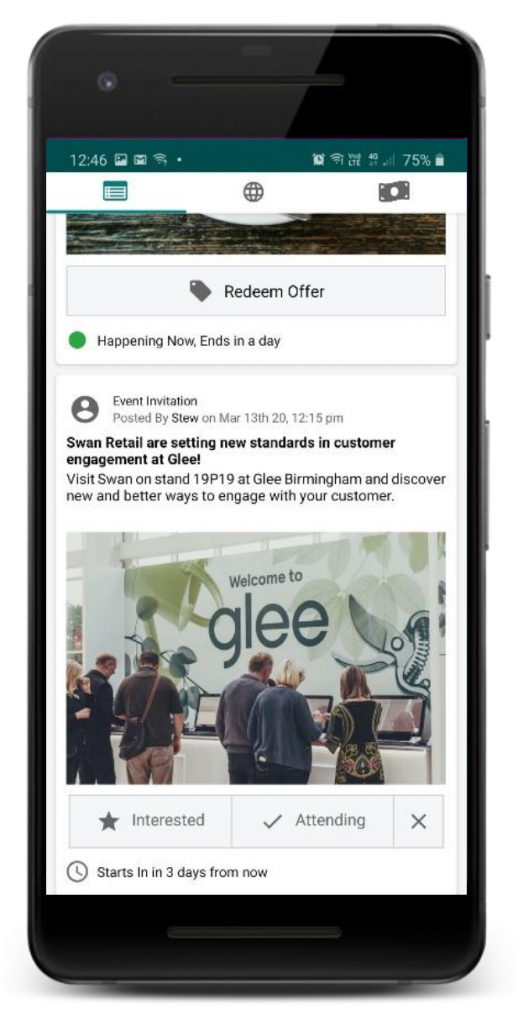 Keeping in contact with your customers is now more important than ever. It could be time to explore another channel that will accelerate your ability to engage with your customers.  
We have developed FUSE, a customer loyalty app, that is the first of its kind to make fully integrated, omnichannel, modern customer engagement accessible to every size retailer. 
The FUSE mobile loyalty app is an opportunity for you to connect with your customers in a fast, efficient way. The app is branded as your own and is designed to be tightly integrated with the rest of the retail system. Purchase history, loyalty rewards progress and customer demographics can all be wielded to your advantage. This is possible because the app has the power to combine with the CRM system and segment the audience based on certain characteristics. 
FUSE can send push notifications to your customers' mobiles. This is something that could be used to harness the current situation by communicating messages or offers. Your customers are not distracted by ads and other content found on social media and can view your posts, respond to event invitations, claim rewards, find exclusive discounts, browse the website, and most importantly, make purchases. All this happens within the app as FUSE houses your website too.
Now is the time to explore new ways of inspiring customer loyalty throughout the coming weeks. 
Planning
Are you ready for business post-lock-down?
The current situation and measures in place are temporary. We are starting to see countries return to normality, so everyone needs to be prepared. For example, Christmas 2020 may be a different experience for retailers than 2019, but it will still happen. Use this temporary lull to generate ideas for your business for later in the year. Bring scheduled planning forward to save your future-self time and be one step ahead of your competition. A boom of creativity is said to have come about as a result of working from home so harness this to your advantage. 
We hope all our customers and prospects find new opportunities and embrace the changes needed to thrive in a future that could be nearer than we think.