We are thrilled to announce that our mobile loyalty app, FUSE, has won the New Product Award at Glee for Garden Retail & Industry Services.
About Glee
 Show
Usually a three-day event at the NEC, Glee (Garden, Leisure, Equipment Exhibition) is the UK's leading garden and outdoor living trade show. This year however, the show adapted to take on a virtual format – the Glee Gathering. 
The new format included a virtual showroom for discovering brands, a product showcase to help visitors find the latest products and trends, the New Product Awards, exclusive panel discussions with insights into the industry from the experts and a virtual matchmaking platform to connect 1-on-1 with suppliers. 
New Product Awards
The New Product Awards took place during the all-digital event. They had over 160 new product entries from across the spectrum and, with the awards being virtual this year, shortlisted pitches were streamed live for both the judges and visitors to watch. 
The judging panel was made up of industry experts: 
Andy Bunker – Director, Alton Garden Centre

 

Ian Hodgson – Editor, Garen News magazine

 

Melanie Livingstone – Plant Area Manager, Fron Goch Garden Centre

 

Nicola Pugh – Senior Marketing & Operations Manager, Pugh's Garden Village

 

Roger Crookes – Director, Roger Crookes Services

 
Our sales manager, Dave Joyce, had two minutes to pitch FUSE to the judges; a tall order given the number of features and benefits to talk about. We then waited until the closing webinar of the event to find out the results. 
Our Mobile Loyalty App Wins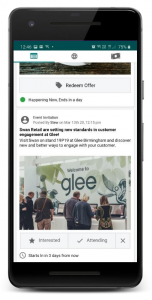 By an 'overwhelming majority', FUSE won the Glee New Product Award for Garden Retail & Industry Services. 
In the webinar announcement, the host (Trevor Pfeiffer of Garden Trade News) said the judges liked the concept so much that they each want to implement FUSE in their businesses. 
Congratulations to our team for all their hard work getting FUSE to the marketplace and making an innovative difference to the way our retailers engage with their customers. 
Find out more about our award-winning mobile loyalty solution.